LUNCH AT NOPI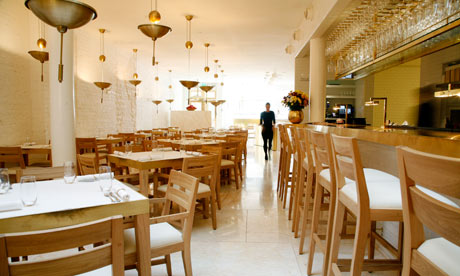 inside NOPI (picture source: The Observer)
Yesterday I fulfilled a long-held wish, to eat at an Ottolenghi establishment. I have been intrigued and delighted by Ottolenghi's food ever since I first walked past the deli/cafe on Ledbury Road in trendy Notting Hill, where I work on Mondays. The window was filled with delicious-looking confections, including pillows of snow-white meringues. When I bought the first Ottolenghi cookbook a few years ago, I was able to indulge my love of this simple, flavourful and colourful food at home: it's a book I often cook from. A good friend, who is a regular at my dinner table, kindly gave me Ottolenghi's latest book Jerusalem when it was published a couple of months ago. I wallowed in Yotam's Mediterranean Feast, recently aired over four mouth-watering episodes on More 4, declaring at regular intervals "I could eat all of that!".
After a rather frantic morning at work, during which the aged laptop decided to conspire against my need to be on the tube, heading towards Oxford Circus, by midday, I dodged the Christmas shoppers on Regents Street and ducked down a backstreet, skirting the edge of Carnaby Street and Soho. My lunch companion was waiting for me at a window table in the cool white and gold interior of NOPI. Soon after I arrived, two tall glasses of Prosecco arrived. A perfect start.
First, the name. NOPI. Assuming it was Middle Eastern in origin, I quizzed the Maitre D', who offered a far more prosaic explanation: "it is named after the location, madam: North Of PIccadilly". Ah, so simple. Like the decor.....
The white-tiled walls are reminiscent of a pristine Art Deco bathroom, or a newly-refurbished Underground station, but, having watched Yotam Ottolenghi visit cafes serving hummus and falafels in Jerusalem, the decor also hints at eastern inspirations. The clean white lines are offset by brass coat hooks, pendant lights (also Middle Eastern in inspiration) and a gorgeous giant flower light over the reception area. The tables are trimmed with brass, and the detail continues down to the simple napkin rings. The simple design values continue into the tableware and linen, and the menu which is not extensive, though by no means limited either. In fact, like the dishes featured on the TV programme, I wanted to eat everything.
I selected pea, broad bean and manouri fritters for my starter, while my companion had mackerel with fennel, white grape salsa and tobiko (fish roe). The service was slick and the food arrived quickly, served on neat little wooden platters. It was distinctly "Ottolenghi" - colourful and flavourful. The pea and bean fritters were delicious, crisp on the outside, and soft in the middle, with a pleasing texture and a hint of cardamom. They were served with a lovely, creamy yoghurt dip. Other Half declared the mackerel delicious and "that's why I didn't share any with you!".
For mains we had whole twice-cooked baby chicken (he) and duck breast with quinoa and hazelnut beer. The duck was cooked exactly how I like it: pink inside with a crisp skin, and the accompanying quinoa was nutty. We had baby potatoes with preserved lemon as an accompaniment. Other Half set to work demolishing the whole baby chicken, once again refusing to part with a tiny bit for me to try. I did manage to cheat him of some of the accompanying chilli sauce, which was piquant and fresh, and not overpoweringly hot.
Too full for pudding and coffee, we tottered off to the shops, and on the train on the way home, I browsed the web for recipes for those wonderful pea and broad bean fritters. Drawing a blank, it's apparent I will have to devise a recipe myself......
The restaurant is open daily for breakfast, lunch and dinner, and offers a pre-theatre set price menu. Lunch for two with wine c£80. The restaurant is conveniently located between Oxford Circus and Piccadilly tube stations.
More about NOPI
here
Recipes and more
from Ottolenghi's Mediterranean Feast TV series